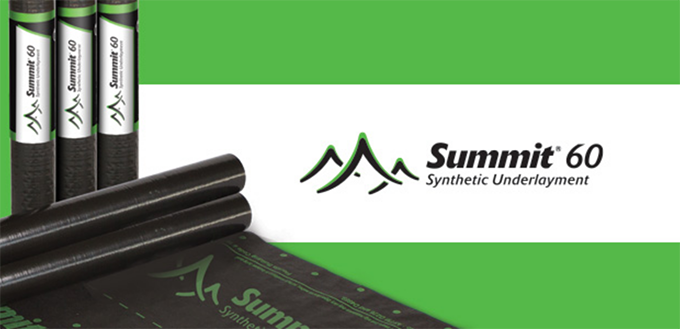 Atlas Synthetic Underlayment
Summit® 60 and Summit® 180 synthetic underlayments are ideal for standard application for steep-slope roof assemblies. They are premium quality synthetic roof underlayments that provide 10 squares per roll, a benefit to wholesalers, shippers and installers alike. Woven scrim synthetic roof underlayment enhances tear resistance and lays flat while guarding against moisture and mold growth. Learn more.
Summit 60 Synthetic
A synthetic alternative to #15 felt, Summit® 60 underlayment provides enhanced protection against water and mold growth. Made with a woven polymeric scrim, Summit® 60 features increased strength, reduced slippage between the underlayment and the roof sheathing and improved walkability during installation.
Meets performance characteristics ASTM D4869 and ASTM D226 standards
Meets ASTM 6757 UV coating allows for 60-day
UV exposure
Summit 180 Synthetic
Stronger and lighter than #30 felt underlayment, Summit® 180 synthetic roof underlayment is ideal for use in virtually all steep-slope roofs. Summit® 180 is constructed from an extremely strong polypropylene woven fabric that guards against mold growth, rot and water damage.
Meets performance characteristics ASTM D4869 and ASTM D226 standards
Meets ASTM 6757 UV coating allows for 180-day
UV exposure