"They actually went over and above!"
Just wanted to follow up on the window installation. I know Graeme and his guys installed the windows in two of your homes. which was one reason I went with them. But what really sold me was the insulation built into the top and bottom of the frame as well as the foam injected around the window frame itself.
On the day of the installation, two men arrived right on schedule. They were very professional in their approach to the work at hand and in fact had removed and installed 19 windows in one day. Day two was just a wrapping and foaming insulation of the balance of the windows. So the entire project was completed in about a day and a half.
Everything, and I mean everything you said about Graeme and his crew are right on they were fantastic. In fact they actually went over and above in one instance because in one window I had a extremely large and heavy a/c unit. There was no way I could have removed it on my own. It did take 3 of us to remove it. I don't think that is part of their job but they jumped right in without question and helped get it out and into a spot in which I could handle it.
One other thing too, Empire was about $200.00 higher in price than the other quotes I received but after careful review of all the facts outlined in the quotations, there is no question in my mind, Empire windows are a bargain for the price paid.
Definitely a great crew, I am glad I heard about them through you.
– Bill Conley
"In each case I was more than satisfied. My highest recommendation!"
I have had Empire do 3 installations of windows and most recently a sliding glass door for me. Each time the response time for quotes was very quick, and, once agreed upon, the installation took place in short order. The owner, Graeme, always followed up with me to ensure my satisfaction with the installations.
– Ross F.
Roanoke, VA
"Graeme and his crew of Empire Siding and Windows raise the bar to a whole new level."
Very seldom do you find a company that is honest and has integrity. Not only did they change the look of our home with new siding, windows, & doors, they took the time to fix a problem we were having with our gutters. They work with you every step of the process. My wife and I couldn't be happier with their work. Thanks Graeme….
– Wayne S.
Roanoke, VA
"They went above and beyond."
Can't beat these guys. I like work done well as I'm in construction my self. I called these guys and they didn't disappoint. Work was good quality and I really couldn't fault it which is rare for me. They done the work and left the job clean and tidy which is hard to find from local contractors around these parts.
– Barry C.
Roanoke, VA
"I must say that they lived up to the hype and far exceeded my expectations!"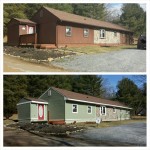 I have a home that is "unique". Having been built onto over the years it was composed of a few different materials – stucco, T1-11 siding and rock. I purchased the home nearly three years ago so the T1-11was in need of re-staining. That wasn't really a project that I wanted to attempt myself, nor continue to do every few years, so I gave Graeme Anderson a call to discuss vinyl. I also needed two replacement windows and was thinking of replacing doors. I'd heard Empire Siding & Windows recommendations on the radio. Graeme came out to my home and took the time to discuss all of my options and look through books and samples with me. He is super nice and knowledgeable and was in contact with me often throughout the project. I settled on the two new windows (the rest of my house already had the replacement windows), a green vinyl to cover the T1-11, paint for the stucco (color matched to my vinyl), and all new soffit, trim and guttering in white. The crew (David and Alan) were friendly, arrived on time each day, worked hard, took the time to answer a couple of questions I had, cleaned up after themselves and just overall did an amazing job. The difference is remarkable! It really brightened things up and took years off of my home. If you're considering having any work done, give Graeme a call, you won't regret it! I will be using Empire Siding & Windows again in the future, when I finally do my doors, and recommending them to all of my friends and family. Also, ask about their financing options!
– Sarah Hatter
Roanoke, VA