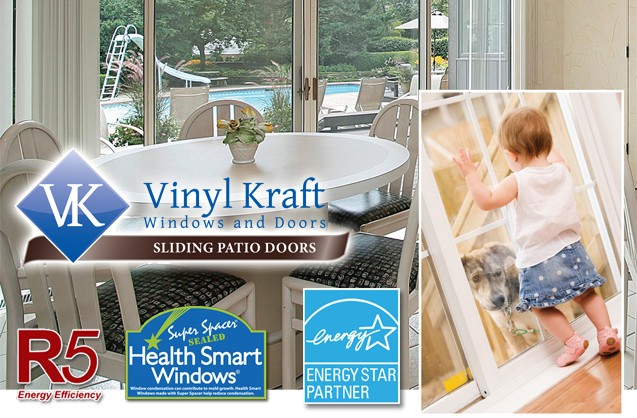 Vinyl Kraft Sliding Patio Doors
Vinyl Kraft sliding patio doors offer you a low maintenance entrance while giving you a full view of the outside. Constructed of a heavy duty frame, it offers superior thermal performance that is resistant to wind, rain and snow.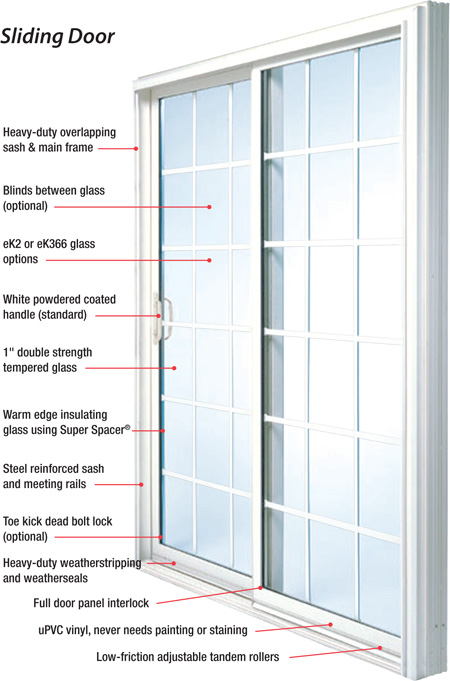 Glass Options

Your choice of double or triple pane, low-E glass options and gas fill will directly affect the efficiency of your new windows. We offer a variety of options to fit your region of the country and your budget. Our eK2 and eK366 glass options along with argon or krypton gas fills are options that you will want to discuss with your window representative.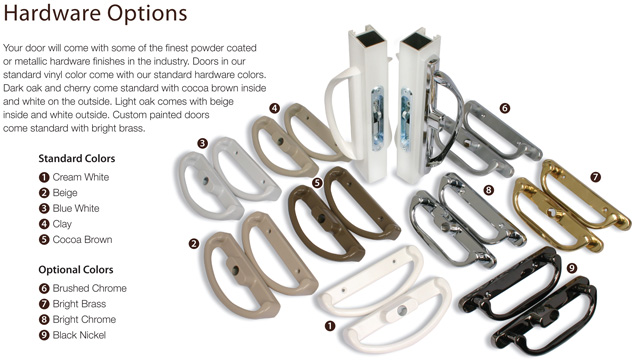 Patio Door Performance Values

# Glass Panes

Glass Type

Gas Fill

U
Value

R
Value

SHGC

Visible light

CRF

Grids

2

eK2

Argon

0.30

3.33

0.30

0.56

59

N

2

eK2

Argon

0.30

3.33

0.26

0.49

59

Y

2

eK366

Argon

0.29

3.45

0.22

0.52

59

N

2

eK366

Argon

0.29

3.45

0.20

0.45

59

Y

3

eK2

Argon

0.23

4.35

0.25

0.44

61

N

3

eK2

Argon

0.23

4.35

0.23

0.38

61

Y
---
Size Limitations
Exact Size two panel
59-1/2 x 79-1/2
70-3/4 x 79-1/2
95-1/2 x 79-1/2
Exact size three panel center slide
106-3/4 x 79-1/2
143-1/2 x 79-1/2
Tempered glass side lights
Exact Size
12 x 79-1/2*
24 x 79-1/2*
36 x 79-1/2*
48 x 79-1/2*