Posted by Empire Siding & Windows in Homeowner Tips

Not long ago we mentioned that our homes are our castles. Let's look at that from another angle. Remember, while castles today function mostly as tourist attractions, years ago they were forts designed to keep out invaders. Today, harsh weather is the invader we want to keep out of our "castles."
We don't dig moats around our castles—they pose too much danger for the paperboy and mail carrier—but we do try to weatherproof and, when cold weather is quickly approaching, winterize our homes.
Modern materials and well-engineered designs are bringing new levels of insulation and weatherproofing to our homes. Today's products also work better and last longer than what was available even a few years ago.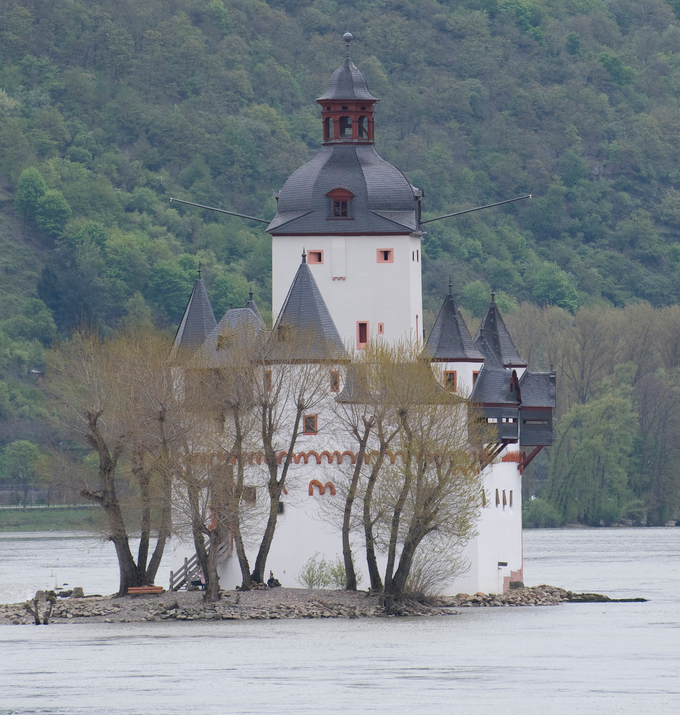 Image courtesy of Patrick Connelly
Windows and Doors
We use doors to get inside our homes – except on those rare occasions when we forget our keys and some of us are known to enter via windows (don't pretend you've never done it!). The cold of winter makes its entrance in the same manner. Few people realize the extent of energy loss the average home owner deals with. According to the Natural Resources Defense Council, approximately 1/3 of heat exits straight through window and door features of a house. That equals roughly the entire amount of energy normally provided by the oil that runs through the Alaska Pipeline!
Temperature changes travel through dense materials faster than air. When the heat, or lack thereof, hits one side of the wood, glass, or metal, the temperature is transferred rapidly through each molecule until it hits the other side. With air space given by insulation or panels with sealed air spaces between them, temperature fluctuations are slowed and managed. This results in air staying the most comfortable on your skin, and your power bills being more comfortable on your wallet.
Doors and windows can indeed be replaced even in winter. Competent professionals are able to do this job quickly and get you on your way to diverting funds from the power bill to buying Christmas gifts for the youngsters in your home.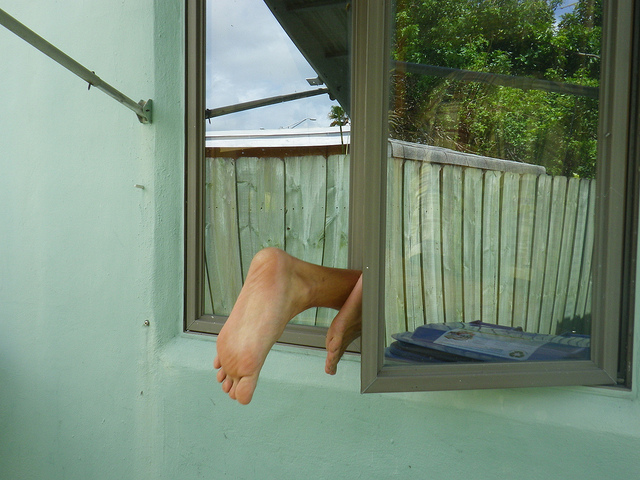 Image courtesy of Osseous
Our doors and windows are the two features of our homes that are most prone to allowing in cold air. Of course, every time we open and close our exterior doors, air from outside makes its way into our homes, but until the Star Trek transporter is perfected, we don't see any way around opening and closing our doors.
There are quick fixes that can be utilized, such as towels laid at the bottom of doors, and repairing cracked caulking around older windows. These are recommended for anyone who finds a chilly household draft they did not expect. We will address a great list of quick fixes that can be packed into your tool belt for future use in a later post, but these are temporary fixes. If you have older doors and windows, you should plan a budget to begin replacing them with high efficiency models as soon as possible..
Fortunately, if you browse our selection of doors, you'll find products that look great and are also designed for energy efficiency and for every budget. By the way, windows and doors that are designed for energy efficiency are also designed for your maximum comfort throughout all seasons.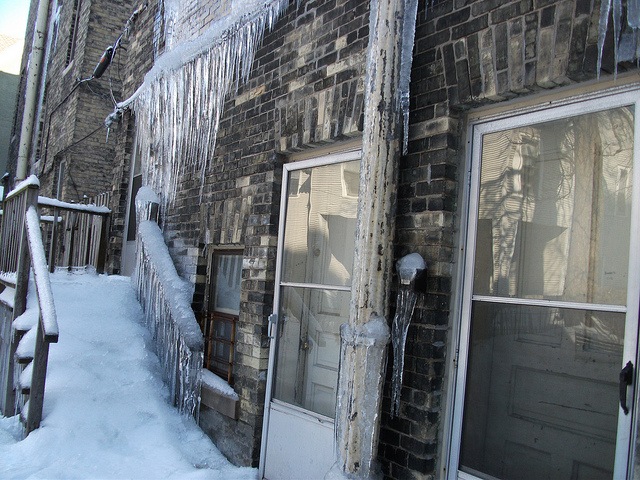 Image courtesy of ECP
Older doors tend to have cracks that allow outside air into your home. If you've tried to install third-party weatherstripping around older doors, you know that it's difficult to get a truly weatherproof seal, and even when you do, the add-on weatherstripping is quick to wear and break.
Modern Materials and Technology
With precision manufactured vinyl French doors made with Low-E glass, homeowners can "bring the outside in" all year long without paying the price in their heating and cooling bills. Winterizing your home with energy efficient, good looking and low maintenance exterior doors is an investment that pays dividends for as long as you live in your home. Storm doors are another excellent option.
The story is similar with windows. To thoroughly frustrate Jack Frost, triple-glazed Low-E glass windows really help to hold down your winter energy bills and keep you warm and toasty when the cold fronts blow through. The glass in these windows also does a great job blocking UV radiation, preventing interior fabrics, artwork and family photos from fading.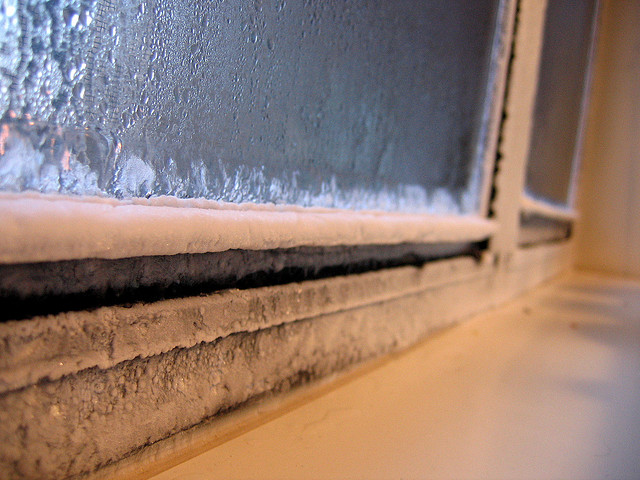 Image courtesy of Jeremy Noble
Anyone who has struggled with maintaining older windows will also appreciate the user-friendly designs of the windows we offer. Our windows operate smoothly and are very easy to clean. If we can turn the conversation to aesthetics for a moment, new windows look fantastic and come in sizes and shapes that will enhance the appearance and value of your home.
One final word: Winterize your home once with energy efficient doors and windows, and you are winterizing your home for many years to come.